Life
The monks of St. Severin's live according to the rule of St. Benedict: or, lege et labora. "Pray, study and work" really means to work and study out of a life of prayer. In the center is God. At St. Severin's, the monks and nuns live in that center, attempting to create a place of peace with a community which will favorably impact society.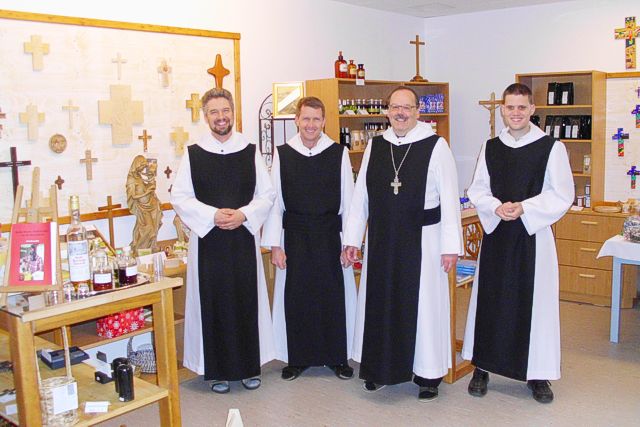 The monks of the monastery (from left: Br. Johannes, Br. Georg, Abbot Klaus (+20.01.2013),
and Br. Maximilien, who is here in the monastery since easter 2012)
Our apostolate and work
Our apostolate is varied: contemplative prayer, ecumenical service, education, art, music, social engagement, and works of charity.
The Monks in the monastery hold all property in common. They operate an art school and gallery to support themselves. Several of the Monks are able artists gifted in such areas as Drawing, Icon-painting, ceramics and wood-carving. One of the Monks started Beekeeping. There is a complete Woodworking-shop where they make wooden Toys, Picture-frames and Furniture.
| | |
| --- | --- |
| | In the monastery shop there are soaps, crosses, candles, icons, etc. |
Monks are responsible for their own livelihood. The secular professed members of the order receive no payment for their apostolic work. The members of the order are committed to compassionate service in the name of our Lord and Savior.
A central point is the order's ministry of care and healing directed towards all who suffer: the sick, weak, the disenfranchised.
The order is also intensely committed to ecumenical work, above all at the local level. Ecumenical engagement is a major concern of the order, but it is not practised at the expense of the catholicity of the church.
| | |
| --- | --- |
| | The Building of the Abbey with the convent, the refectory, the offices, the workshops (soap manufactory, production of the balms etc.) the artschool, exhibition hall and the monastery shop. The Chapel of St. Lukas is in Neugablonz. |